The General Assembly is the company's highest body of governance and comprises representatives of all the members. Its composition, responsibilities and procedures are established in articles 26 to 34 of Mutua Universal's current Articles of Association.
Who makes up the General Assembly?
The General Assembly is comprised by all the members. There is also a representative of the company's staff.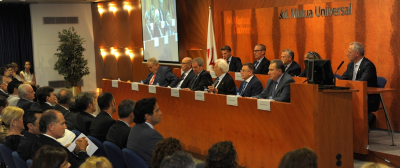 Who has voting rights?
All the members who are up to date with their social responsibilities.
Can I delegate my vote?
If any member cannot attend the meeting, they can delegate their representaton and vote in writing to another Mutua Universal member by means of the attached form, duly signed and sealed by themselves, their representative or an authorised person with sufficient authority to represent them. Any delegation which does not expressly state the member that representation is delegated to will be understood to be conferred on the Chairman of the Board or the board member nominated by the chairman.
Vote delegation process
If you are a Mutua Universal member and up to date with your social responsibilities, you can delegate your vote by downloading the form available at the following Vote Delegation link. Once signed and sealed by the member, their representative or authorised person with sufficient authority to represent them, we would be grateful if they would send it to their contact person at Mutua Universal.
For more information on the General Assembly
If you have any queries regarding this, please contact your regular contact person at Mutua Universal.