The General Committee is the highest body of government of the Company and it is comprehensive for a depiction of all those associated/ace. Its composition, responsibilities and procedures are established in articles 26 to 34 of Mutua Universal's current Articles of Association.
Who makes up the General Assembly?
The General Committee is comprehensive for all those associated/ace. Similarly, is part of the General Committee a person of the representantación of the people workers at the service of the Company.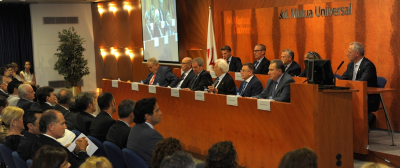 Who has voting rights?
They have voting right the set of partners/ace that are up to date in the course of its social obligations.
Can I delegate my vote?
If as a partner/to can not attend the General Committee, can delegate its depiction and vote in writing in favour of another partner/to Mutua Universal through the duly signed and sealed form personally, for its representative or for a person authorised representative with to be able to enough. All delegation in which expressly the associated person is not indicated/to in who the depiction is delegated, will be understood conferred in favour of the presidency of the Board Of directors or of the person of the designated Joint for this purpose.
Vote delegation process
If is associated/to Mutua Universal and aware of its social obligations is found, can delegate the vote via our online software environment.
For more information on the General Assembly
Before any doubt in this regard can communicate with its usual contact of Mutua Universal.