Work reintegration programme
Mutua Universal offers injured workers and of its families its social work service, with the aim of attending different needs that they can present after the work-related accident or the occupational disease, including:
Work and social integration.
Security and protection, attention to basic economic needs of the family unit (property, diet, studies of the children…)
Personal and quality of life autonomy.
In many cases, the access to a work position is the best way of covering these needs, for that reason Mutua Universal has a Programme of Work Reintegration in which advice, orientation and accompaniment is offered in the job search.

Objective of the Programme
Promote, insofar as the situation allows it, the reorientation, the reintegration and the work integration member.
---
Recipients
Workers that after suffering a work-related accident or occupational disease have been affections of degree of disability that they prevent returning to carry out its usual work activity.
Workers that, after suffering a work-related accident or occupational disease, they have lost its employment during the retrieval process and are found in situation of risk of social exclusion (older people of 45 years, single parent familes …).
Direct relatives of workers in situation of disability or of deceased after suffering a work-related accident.
---
Development of the programme
The programme is initiated with a customised interview with the social worker whose objective is to know the profile of the user and its main needs.
Once made this first assessment, will be added to one of these programme options: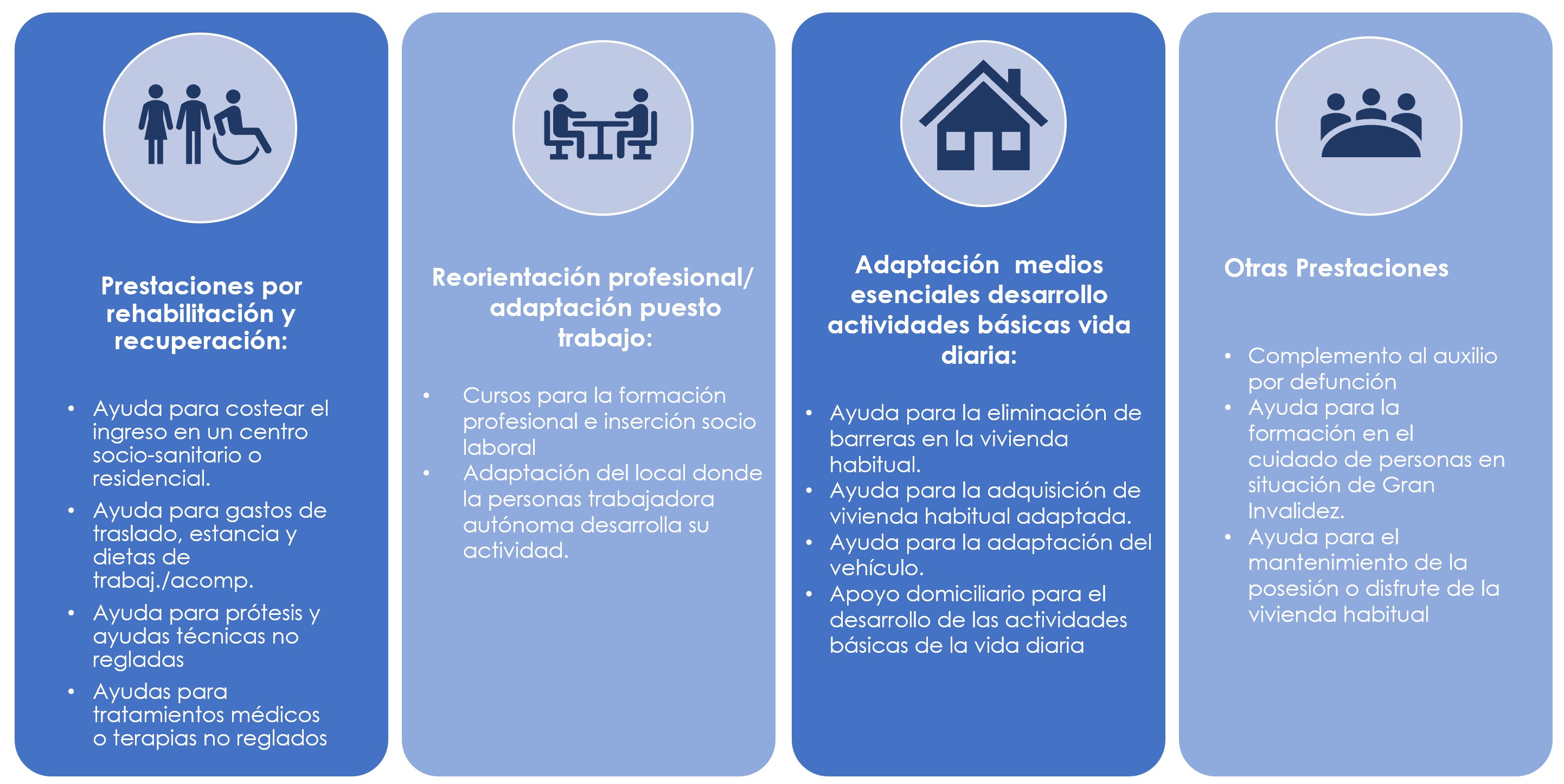 ---
Regardless of the option of the programme through which is chosen, the social worker will carry out accompaniment and follow-up of the case
Workshops for the improvement of the employability:
These workshops will be given by the team of social work and they have such as objectives:
Provide the shift of attitude towards the employment within the personal project of each participant to help to detect and promote the personal resources for the work reintegration.
Give instruments for an efficient and systematic job search promoting the development of the participants' speaking skills to improve interpersonal relationships and for ende its active search of employment.
Collaboration with specialised Companies:
Collaboration with non-profit organisations specialised in the work reintegration of disabled people or at risk of social exclusion.
Education grants aimed at the labour insertion
Social benefit application procedure in concept of education grant for those cases that can benefit from a specific training aimed at the work reintegration.
Community Universal
All participants in the programme will be able to access the News Letter that is sent in a periodic way via email:
News of interest
Training and Employment
Offers Employment
All the curriculums of participants are added to our database. From the Social Work service periodic searches are made in the main web portals of employment with the aim of informing to the candidates on offers that better you can adapt to its profile.
---
Register you in the programme of work reintegration