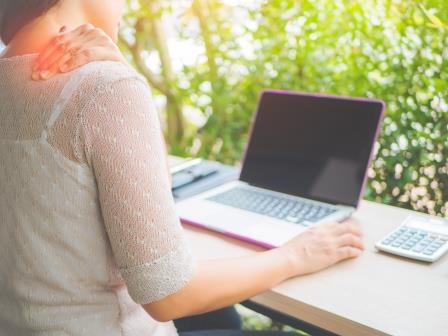 Throughout the week, came over long periods of time suited in our work position. This can affect to our physical status, but there are various exercises that us will help to avoid problems of back and to improve our posture in the branch.
There is a concept called "active" pause that it makes reference to simple exercises that we can do while we enjoyed our working day.
Just as argument Gloria Morales, propulsora of the programme Ballet Fit, to include physical exercise in the professional field us assistance to "clear the musculature, to adopt a correct posture when to work and to reduce the stress".
Exercises that Gloria proposes us are simple and it can them to carry out anyone in its work position.
The duration of these practices does not exceed 8-10 minutes, so no longer have excuse to take care of our health even when we are working.
Thus it explains Gloria Morales exercises:
Active Pause exercise 1:
When you are sat in your chair, supports the arm thing in your table and drive you towards back leaving an enough distance as to have stretched arms. Once are in that position, stretches the back and it exhales. When inhaling, do the counterposture and it straightens again all the back.
---
Active Pause exercise 2:
When you have ended the first exercise, doing repetitions that it wants, leaves the same distance in order to be able to lift the right leg and to stretch with the right hand. Do the same thing with the other side.
---
Active Pause exercise 3:
Now, supports two legs in land and maintain the straight back good. You will have to lift the right hand and droop towards the reverse side while you exhale. When inhaling, comes back to the central position. Do the same thing with the other side.
---
Active Pause exercise 4:
Joint two hands for behind your body. It tilts the onward body and leaves stretched arms arrives.
---
Active Pause exercise 5:
It is the moment of honing in on our head. Tour the head towards the right-hand side and towards the left one without forcing. Tilt her also upward and downward.
---
Active Pause exercise 6:
It is appropriate to free the load that we have in the shoulders. For this, carries out circular movements towards back and onward.
---
Active Pause exercise 7:
When we are suited in our chair, support hands in her and we go up and we go down heels doing circular movements.
---
Active Pause exercise 8:
Standing, supports hands in the seat of the chair. In that posture, curve and it stretches the back without forgetting of inhaling and expiring in every repetition.
---
Active Pause exercise 9:
Standing with hands leaned on the seat of the chair, put on of cuclillas. In that posture, doubles and it stretches knees.
Now that you already have guidelines to improve your occupational health, only have to practice these exercises and to turn them in routine during your work days.
---