Next generation rehabilitation equipment
The rehabilitation diagnoses, prevents and it responds welfare to the disability with the aim of providing, to maintain or to return the greater degree of functional skills and independence to the/patients.
Luis of Osma, coordinator of physiotherapy in Mutua Universal
Its scope includes sick patients with the following pathologies: musculo-skeletal system, neurological, vascular, those of the lymph system, cardio-respiratory, pelvic floor, and pathologies of communication, etc.
The rehabilitation allows that the/patients recover a function or activity lost by an illness or a traumatism, giving a health attention aimed at to avoid as far as possible or to decrease consequences and disability and to reach the finest quality of possible life.
---
To meet rehabilitation needs, our centres are equipped with advanced equipment and professional teams with extensive experience and training who also have the support of leading physiotherapists, both in-house and via the Online Clinic.
---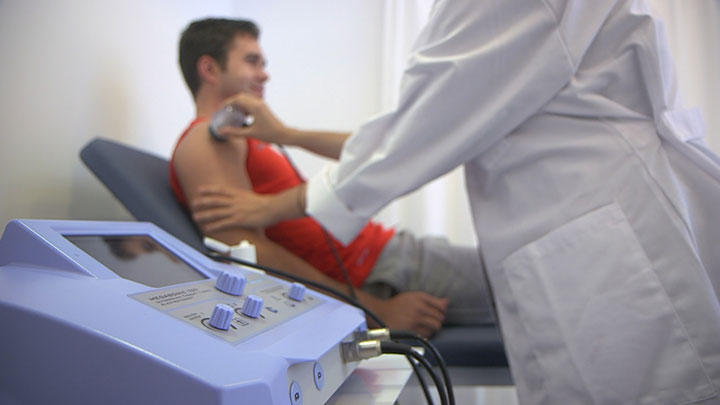 The rehabilitation and physiotherapy service offers comprehensive attention to the patient through various techniques:
Electrotherapy.
Hydrotherapy.
Laser therapy.
Magnetotherapy.
Muscle strengthening.
Thermotherapy.
---
Types of rehabilitation
Orthopaedic and trauma rehabilitation
Fractures, dislocations, contusions, sprains, tendinitis, muscle contractures, fibril breakages, post-traumatic tendon, neck and lower back pain, post-surgical (protheses, plasties, arthroscopies, tendon suture,...)
Rheumatologic rehabilitation
Osteoarthritis, arthritis, spondylitis, osteoporosis,...
Neurological rehabilitation at authorised centres.
Strokes – hemiparesis, TCE, peripheral nerve paralysis (brachial plexopathy, STC, ulnar neuropathy,...)
Cardiorespiratory rehabilitation (in the hospital control area of Barcelona)
Ischaemic heart disease, chronic bronchitis, bronchial asthma, pulmonary emphysema, bronchiectasis, pre- and post-surgical respiratory failure...
Sport rehabilitation
Sprains, tendinitis, contractures and pulled muscles, fibril and tendon breakages.
---
Rehabilitation techniques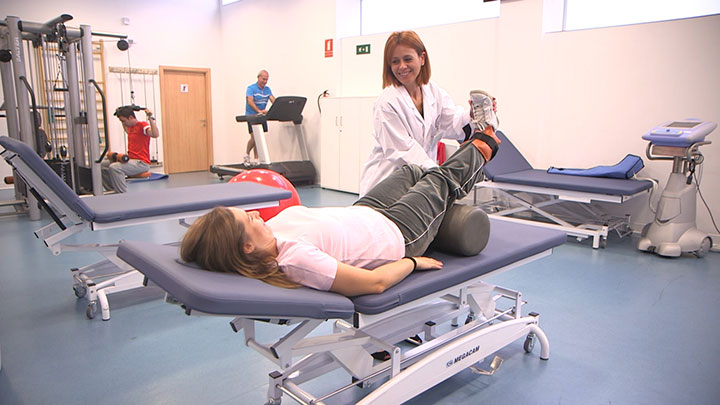 Manual treatment: massage therapy, stretching, kinesiotherapy, myofascial techniques, osteopathy, manual lymphatic drainage, etc.
Elastic therapeutic tape or kinesiology tape.
Functional bandaging.
Mechanotherapy (stationary bicycle, treadmill, gymnastics ladder, exercise benches, etc.). Proprioception. Spinal traction.
Postural retraining.
Ergonomics.
Back school
Respiratory physiotherapy.
Braces and prosthetics.
Support devices with technology that enables the reduction of inflammation and pain:

Electrotherapy.
Ultrasounds.
Microwaves.
Short waves.
Ultrasounds.
Infrared.
Paraffin.
Laser therapy.
Magnetotherapy.
Pressotherapy.
Shock waves.
Do you want find out more about our services?