The Regulations CLP it regulates the classification, tagging and packed of the dangerous chemicals.
This regulations modified the system of tagging from chemicals in 2010 for substances, and in 2015 were added also mixes.
Mutua Universal offers various resources and support tools to the sensitisation and knowledge of the new tagging.
Knows and it learns to interpret the information of the labels of a different way with our videogame CLPplay.
CLPplay ®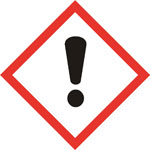 The CLPplay videogame is an interactive, fun and informative application that allows users of chemical products in the work environment to learn, assimilate and easily remember the new labelling regulations (CLP).
The chemical labelling system was modified in 2010 for substances, and in 2015 mixtures were also added, thereby fully replacing the previous labels. CLPplay is a complement that assists in the training of workers in the new system.
The objective is to help the workers to memorise the new H pictograms and statements of the chemical product labels, associating them to their meaning.
It is intended for member company management and workers that handle chemicals.
---
For more information or doubt on the classification of a substance to consult the THROWS (European Agency of chemicals):